Dominic Pacifico Will Be the Hottest Barber Ever!
date_range
March 09, 2018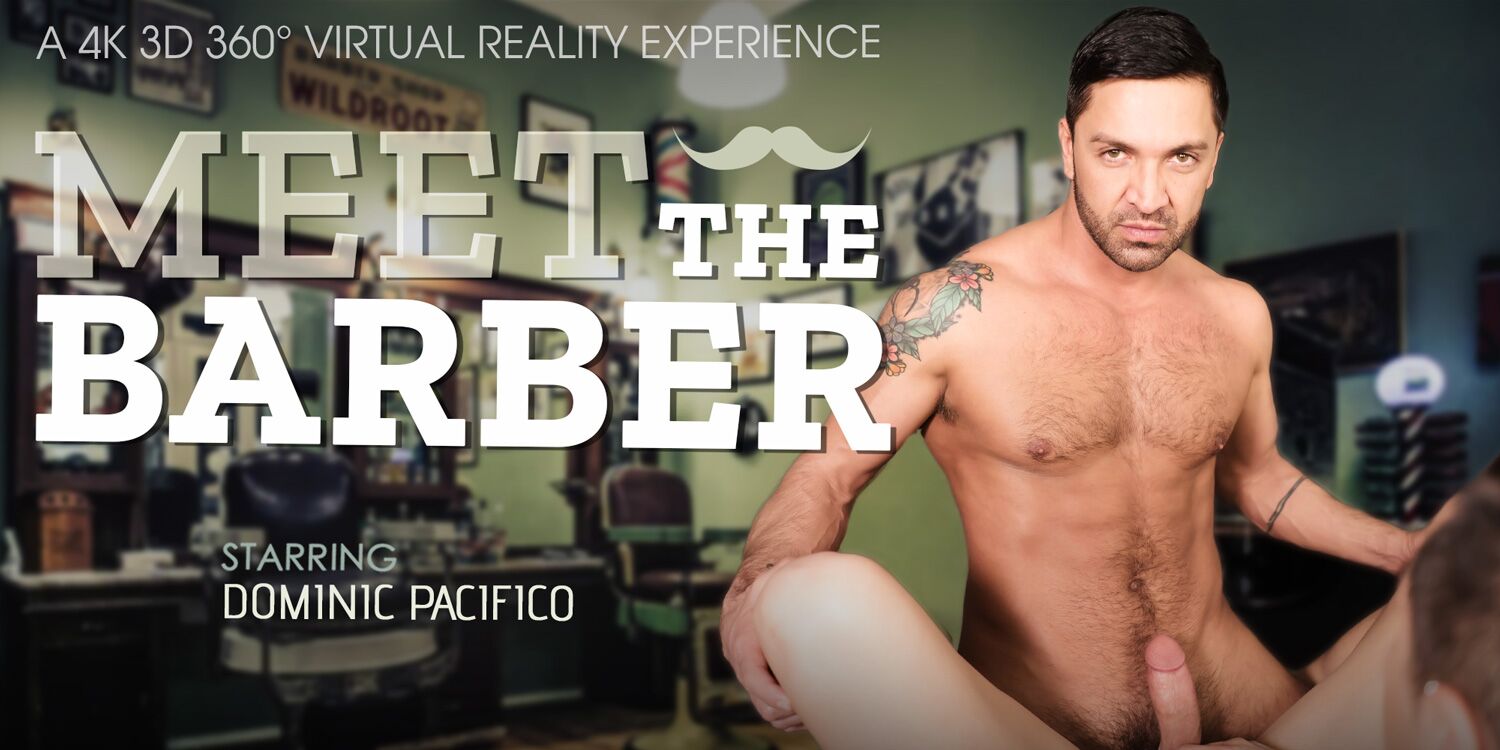 Have you ever been fantasizing about banging some sexy guy that you've met somewhere in the city? Sure, not all the sexy males out there are gay, but you could at least have a hope that the one that you've liked is homo, and that maybe you two could... Put your hopes aside since with VR Bangers you don't need to be wishing anymore, as with us your dreams can now become real. This handsome barber that you saw last week when you were having a haircut - do you remember him? You thought that you have no chances with him and he didn't really respond to your flirt, leaving that insatiable desire in your hard dick. Now in the virtual reality you can earn yourself a second chance, since this time you'll be a way more persuasive, as it's the gay VR pornstars' duty to be there for you and give you the pleasure that you've deserved to have. We knew that you liked our super sexy Dominic Pacifico in our previous gay VR porn videos, so we've asked him for a yet another VR porn performance, although this time a more personal one. Since we simply wouldn't accept a negative answer, now you'll be able to enjoy this brand new and very immersive sex scene. Today DJ Pacifico will become that sexy hairdresser that you've wanted to bang, giving some rightful relax to both your hair and... ultimately your dick. As soon as you'll wear your VR headset, you'll teleport to a sexy gay VR porn dimension together with Dominico, and he'll start working on your haircut straight away. Unfortunately, nobody is perfect and even our handsome guy will eventually make a mistake and cut your hair in a wrong way! But remember, every cloud has a silver lining and now he'll have to make up for the mistake and offer you some extra services. Minutes later he'll be kneeling before you already with your schlong in his mouth, sucking on it like it was a bottle of his favorite wine, and licking your balls with the desire in his eyes. You can already tell that he too wanted to have some fucking today, yet you couldn't just go and ask him straight away, and you're happy that it eventually turned out like that and now you can bang this sexy hunk. This natural talent will give you the best gay virtual reality porn performance, trying to meet up your highest gay sex related expectations, as the right to being called a pro is something that he truly wants to keep, so there will be no drawbacks. Wanna fuck Dominic tight's ass here and now? Wear your VR goggles and jump straight into this incredible gay VR porn video to have some fun with a sexy barber! Do you like such bareback handsome guys like Dominic and would like to watch more of them? Easy-peasy! Look for them on your own on the Gay VR Bangers' main page,
here
.
Watch Dominic Pacifico's Gay VR Porn films
!