Fabio Will Give You The Best Show of Your Life!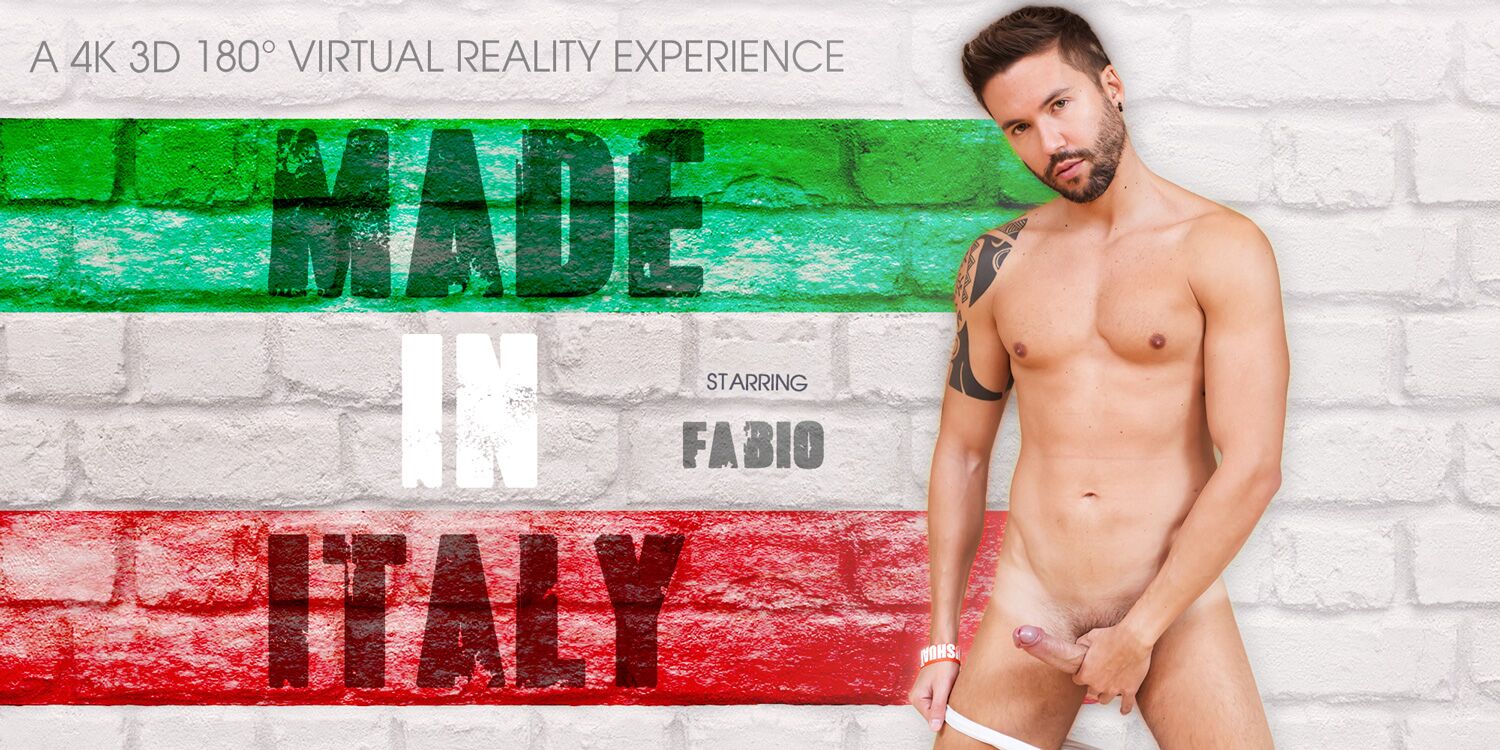 Have you ever been to the Italy? This sunny center of pizza, pasta and some other sensual Italian pastries is being called a capital of love by many people. Italian ancestors living there hundreds (or thousands, actually) years ago have built the basics for the love techniques that we know these days, making this country not also a love-related area but also one of European capitols of sex! It's not weird that a super-hot gay VR porn star like Fabio came from such a place, since hotties like him happen on daily basis in sites like that. He's been playing in some of the VR Bangers' movies before, but this is his very first solo masturbation scene, allowing you, our exclusive gay VR porn videos' fans to enjoy the incredible immersion between you two. After all, such solo materials are the best to make a good contact with a viewer, as in them there's only an actor, the performer, and the gay virtual reality porn camera lens between you two. Fabio put a lot of work into preparations to this gay VR porn scene, as it's somewhat his debut with VR Bangers and he really wanted to show himself from the best possible side. He's got his dick polished, muscles oiled and when he was all set and ready, he just couldn't wait for our viewers to watch his immersive premiere. As always, when Fabio was playing in front of our VR porn camera, he kept thinking of you - all of his followers - and the image of your cocks getting harder when staring at his body only kept him going and even more harder with every following second. The handsome guy will be there here for you, and only for you, as this is an inclusive VR porn video and can be watched only by the VR Bangers' fans. He'll tease you just like he was your boyfriend, playing with his nipples and hair on his chest to get you into the appropriate mood, and then get to the details, while touching his schlong and making it grow - moaning and groaning wildly in the meantime. Will you wear your VR goggles and join Fabio in this everlasting fantasy? Will you let him guide you and show you how it's done by the professional gay VR porn performers? Even jerking off all alone can get much more sensual when done in virtual reality and with VR Bangers - once you try, you're never gonna be doing it in the old, obsolete way. VR is the technology of the future and with the guys like Fabio in the gay virtual reality porn business, there's a lot more to come out of it, so strap on your VR headset right now and spend a nice evening with him in a sunny Italy - you've definitely deserved that! Did you like Fabio's giant dick? Everyone does! You can browse for cocks like his on your own by going to our main page, 
here
.
Watch Fabio's Gay VR Porn films
!