Alex Mecum Has to Examine Your Prostate!
date_range
October 17, 2017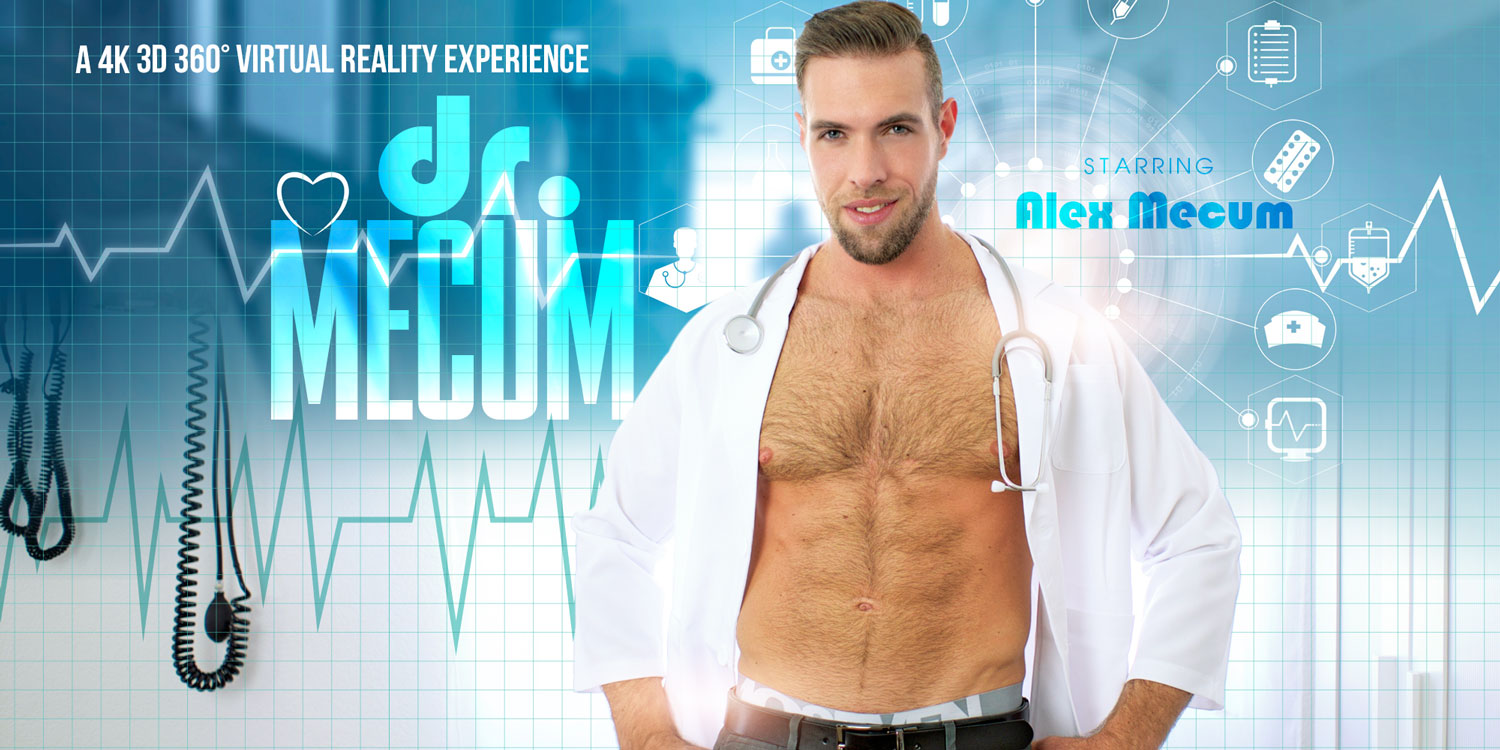 Nobody likes visits to the doctor - they associate with pain, injections, lying in bed with fever and high prices of medicines. But what if your doctor is a sexy Alex Mecum, who is going to investigate you much more deeply than any of the previous medicals? Such things are possible only in Gay Virtual Reality Porn! Healthy lifestyle and proper diet have made you haven't had to go to the doctor for a long time. However, now that everyone around you is sick, the virus also caught you and you have no other choice. You are stressed out because you are not accustomed to such visits, but the smile of your doctor calms you down and gives you some comfort. Alex is a very handsome man who looks at you from the beginning in a rather intriguing way – you really do not know what to think about this situation. The doctor looks at your throat, listens to your lungs, and everything looks normal up till this point. With time, however, you notice that his touch has no longer a purely professional form... Doctor MeCum begins to touch your body in an increasingly erotic manner, and over and over again, as if by accident, rubs his hand against your thigh or touches your crotch. You are not an expert, but in the case of your illness, the doctor should not touch your erogenous zones at all, and he does it all too often. At one point, Alex says, "Okay, we have to examine the prostate." You answer: "What? For what? After all, it has nothing to do with my illness!" The doctor explains to you that prostate and intestines are responsible for hormones in the body and that if he will not do it, he might not be 100% sure what's wrong with you. You are not convinced by his excuses, but Alex does not seem to accept the refusal and waits for you to stick out before him. He puts his fingers inside you and starts to examine your prostate, but after a while of pressing you down there in a very pleasant way, you get hard between your legs. Alex notices your erection and a soft smile appears on his lips. You ask him, "You do it special, right?" Alex replies, "You speak as if you did not want to, and yet I see that you do...", and then grabs your hard cock into his mouth. Alex sucks your penis up to your balls, choking on him sporadically and allowing you to press his head against him so you can feel his wet throat even harder. You too, seeing his hard, huge chunk, can't resist any longer, so you start sucking his cock, feeling how it grows in your mouth with every move. When your penis is hard and wet, the doctor enters your ass, inserting his entire dick, so you can feel him good. After a while he swaps with you, sitting down on your hard cock and letting you feel his tight ass. When Alex can't stand it anymore, he cums on your stomach, then helps you to cum with his mouth and swallows your hot jizz to the last droplet. Now you can say that the study has come to an end and you can go home to make a prescription and try to recover and feel better with pleasant memories in your head. Maybe you will visit the doctor even when you are healthy already? Who knows? Want more sexy Gay VR sex movies with muscular man? Simply visit our 
main page
!
Watch Alex Mecum's Gay VR Porn Videos
!