Paranormal Activity with Nick Vargas and Ryan Cage!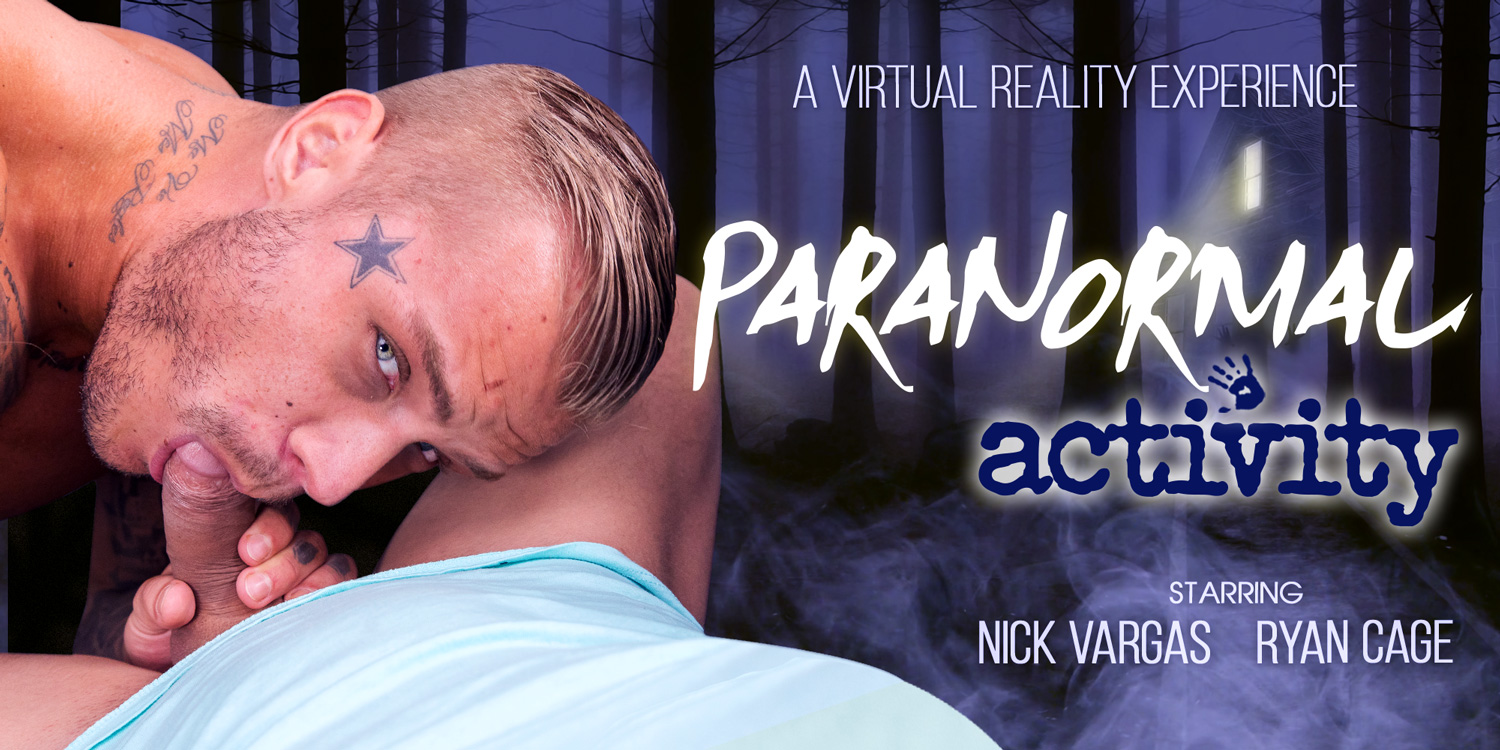 Believe it or not, but from time to time even we - professional gay VR porn movies' makers - like to do something nonstandard and get out of the regular frame of our gay VR porn videos. We have already been producing some funny gay VR porn scenes, some nostalgic gay VR porn fantasies that were supposed to give you a second thought - after all these years in the gay virtual reality porn industry, we have never done a scary scene yet, though! Paranormal Activity is our latest attempt to break this impasse and introduce something fresh and new - today we have asked Nick Vargas and Ryan Cage to play with the mysterious Ouija board, and regardless of whether you believe in ghosts or not... today you might get scared by the outcome of their little spiritual harvest! You obviously know what is the Ouija board, right? No? You do not? Well, simply speaking, it is a flat board marked with the letters of the alphabet, the numbers 0–9, the words "yes", "no", "hello", and "goodbye", along with various symbols and graphics. With its use you can communicate with the spiritual world and call the spirits of your ancestors to ask them all the troubling questions. So, now when you know a little something about it, what do you think: what could two handsome gay VR porn stars be doing with it? Well, obviously both of these hot hunks just wanted to feel a little thrill and decided to do this little session with the undead - and the outcome of their doing kind of exceeded our wildest expectations. It is hard to tell whether the guys got possessed by some sexual demons from the past, or they just got horny from all these adrenaline and summoning of ghosts - the only certain thing is that now they have just started working on each other's dicks and now they are about to fuck each other's brains out! Even though we have told you that the scene consists of two handsome gay VR porn performers - Nick Vargas and Ryan Cage - since it is a POV (point of view) gay VR porn video, within this gay virtual reality porn experience you will be only able to observe Ryan doing "his thing" - while Nick will be borrowing you his sexy body, so you can wear your VR goggles and feel like him when being in the same room with Mr. Cage. If you like what you see and would like to watch some more of Ryan's doings, make sure to go to his private profile
over here
- every single gay VR porn movie that we have ever produced with him in the past can be found over there with ease. Do not forget to visit the
main page of VRBGay.com
from time to time, too - we keep on updating it and adding more and more new gay VR porn scenes out there, so only visiting it regularly will allow you to be in touch with everything that your favorite premium gay VR porn movies' makers have to offer!