Pool Boy Mick Stallone Will Do Everything for Cash!
date_range
December 02, 2017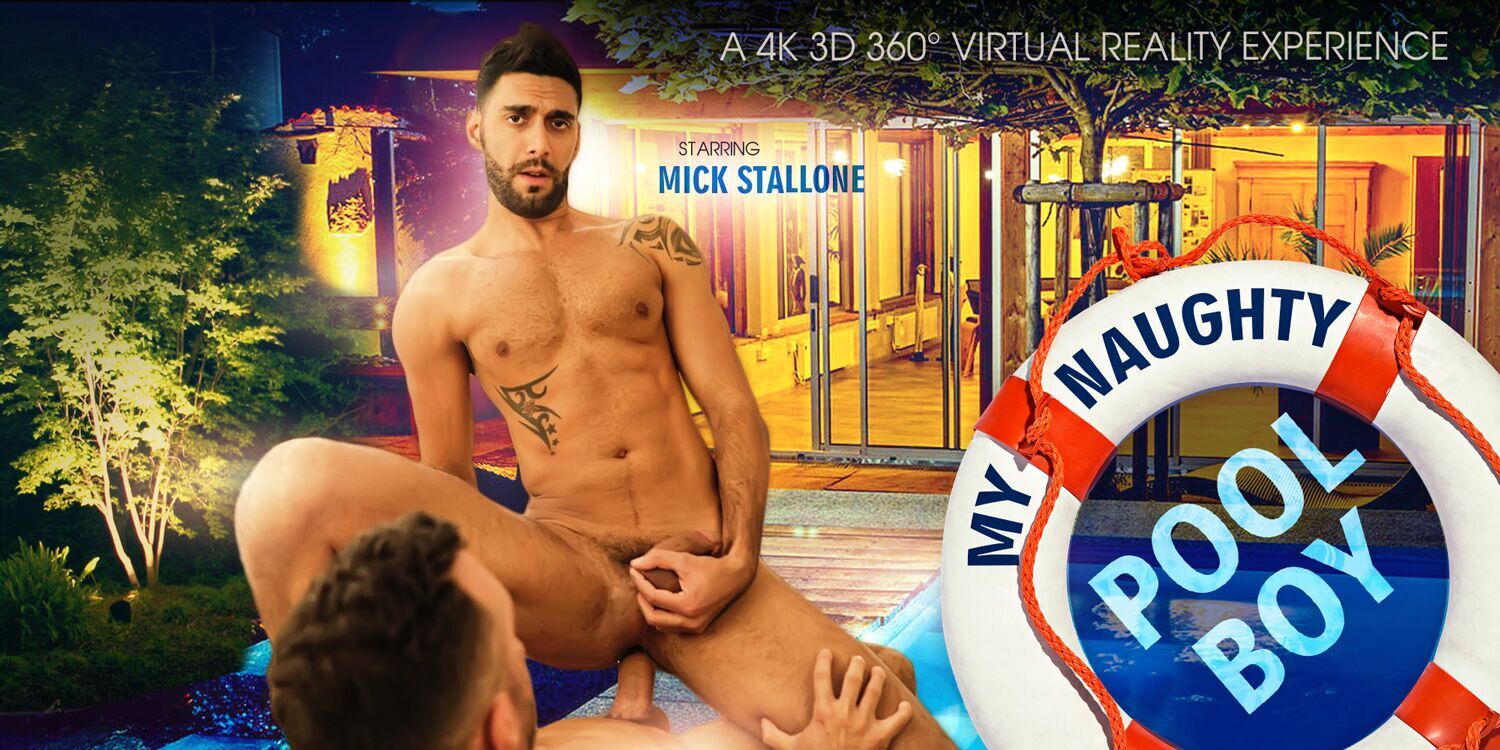 They say that money does not buy happiness - is that true? Hard to tell, actually. Many of us spend our entire lives chasing wealth, but once we reach it at the expense of our friends and family, and we have no one to share it with, indeed, even the greatest fortune can be sad and lonely. Maybe if you'd spent all those money on VR Bangers' Gay VR Porn recording, then it would bring some happiness? If not for you, then definitely for the other Gay VRB's high quality content lovers! "My Naughty Pool Boy," our latest scene, tells the story of a wealthy businessman who lives alone in his huge villa. His days are filled with splendor and wealth, but he does not have too many friends. The only habitue who visits his property is no one other than the sexy Gay Reality Porn star Mick Stallone, who works after hours as a pool boy, cleaning the pools of rich snobs. It is hard not to pay attention to such an employee because Mick's sexy body can be seen precisely through his shorts and shirt, and his stubby nipples seem to mesmerize anyone who will be staring at them for long enough. Today, the boy as always arrives punctually and walks straight into the garden to take care of his work, to be able to visit his next client as soon as possible. However, when he gets into the villa to pour himself a glass of water and rest, his eyes reveal an unexpected sight - a rich snob in the kitchen watching his work while masturbating at the same time! In the first place, Mick thought: "It's unforgivable! I'll go to the police! Pervert! How can you!" However, after a while, when he considered this situation... The man is pretty handsome, and maybe he could pay him some extra for these "services"? Bonus cash would definitely be useful... So Mick, without further delay, kneels before his employer to help him with the swollen problem that is now in his hands. He immediately takes his hard penis to his mouth to avoid any further postponement, because as we've mentioned earlier, more customers are waiting for him - interesting, whether all clients get such additional services? After all, he's a professional Gay VR Porn movies, so maybe... The boy knows that his mouth is not enough to make such a demanding partner cum, so he quickly slips his cock between his buttocks. Mick dabbles at the man's protruding donger, feeling his penis pulsing inside his anal. Moments later, the moans of the villa owner make it clear that he can no longer hold it, as he jizzes inside the anus of a young pool boy. Mick dresses up fast, takes his paycheck - along with the bonus for a "well-made service", and then rushes to the next client. I wonder what this young boy is doing with his other employers - this you can find out only from the other Gay VR Bangers movies! Want more Bareback videos? You can always go to our 
main page
 to look for them in our newest scenes.
Watch Mick Stallone's Gay VR Porn Videos
!