Wesley Woods Will Teach You How to Masturbate!
date_range
January 12, 2018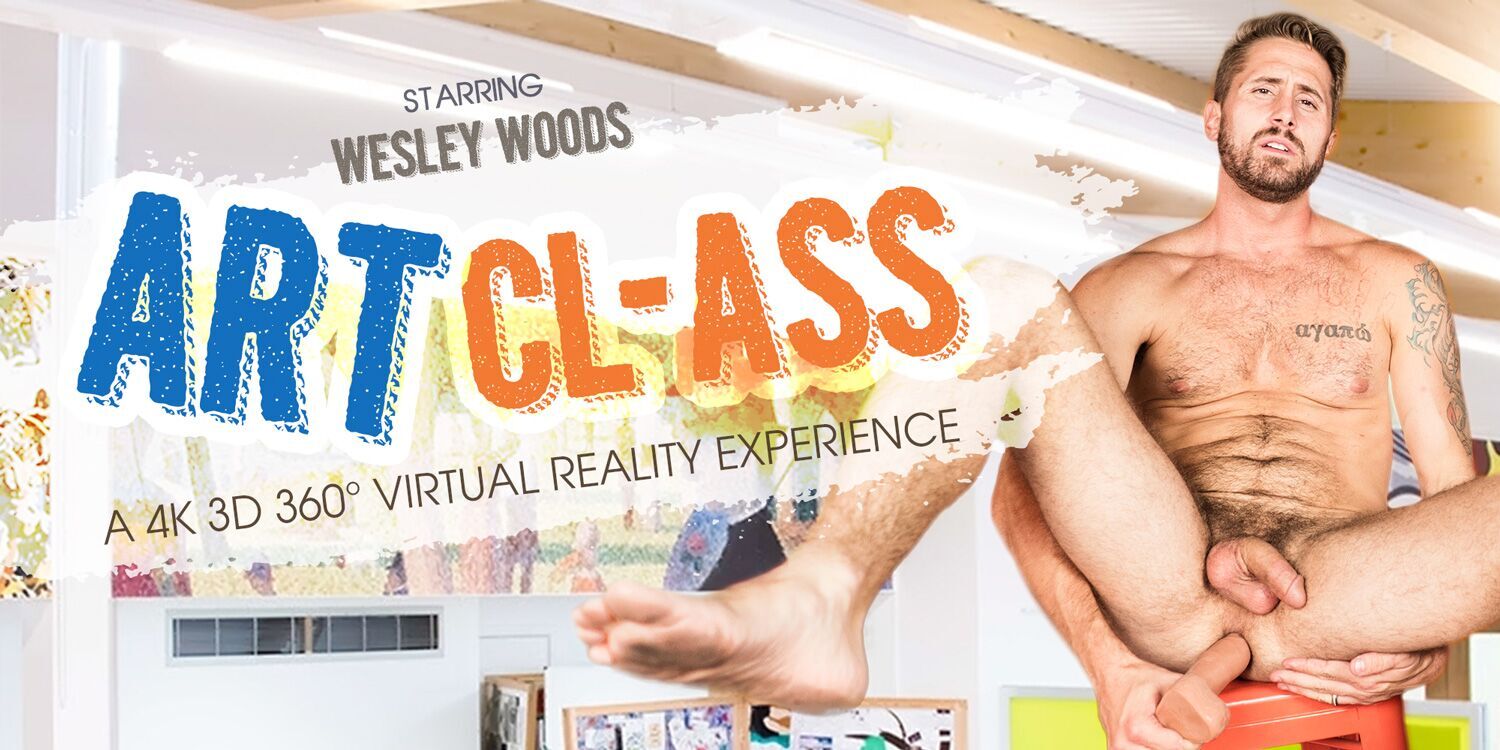 Have you ever been to an art class? This might sound like a silly question, actually, as you were all taking part of such lessons at some point of your lives, yet we did not ask it without a reason. Today, in this newest Gay VR Bangers' scene blog, we are about to find out the real artists in you, our committed viewers. So do you have that artistic soul in your bodies? We sure have, as we (and many of our fans) consider our Gay Virtual Reality Porn movies an art of some kind, but when it comes to our members, we suggest to keep on reading to certainly find that out. There is a lot of things that you guys could draw or paint, including some still life, landscapes, modern art or even a bodies of the real people - this last one sounds the most interesting, doesn't it? Flowers, fruits, mountains and rivers - sure, they are cool - but when you have a possibility of painting a real body... All these muscles, curves, shapes and facial lines are so tempting, giving you a possibility of being like a Leonardo Di Caprio in the Titanic movie, while drawing a male version of his "French girl" portrait. And why are we talking about all of this? Well, just go a little further and it will all make sense. Today we are hosting an exhibition of a sexy Gay Virtual Reality Porn star, Wesley Woods. This hunk has agreed to become our model and show off his handsome body, to let us all practice our drawing skills. He is lying there naked, all oiled up and ready to become a piece of art on the paper, while straining all his muscles and shapes in front of our Gay VR Porn camera. If you've met Wesley in our previous productions, you know exactly how is he like and that he just can't lay like that without doing anything for too long. Thinking of all these eyes that will be looking at him when the recording is over only made Wes even more turned on, so he couldn't just stop the temptation and started to touch himself. Naturally, he too wanted to show himself from the best possible angle, and since there is no better cock than the hard one, he had to get it stiff ASAP somehow anyway. This was supposed to be an art class, and yet it became a solo masturbation scene of one of the hottest dudes in the Gay VR Porn business. Wesley will not get satisfied easily, so this show will continue for many minutes, as he will be going even more hardcore with every following one of them. His anal is ready for the fun, his cock is about to explode, and the only thing missing in the picture (literally) is you and your VR goggles - so wear them now and get sucked into this immersive scene from VR Bangers Gay! Do you want to watch more such solo masturbation Gay Virtual Reality Porn videos? We have got a lot of these waiting for you on the VRBGay's main page,
here
.
Watch Wesley Woods' Gay VR Porn Videos
!