Logan Moore Is the Sexiest Pool Boy Around!
date_range
October 19, 2017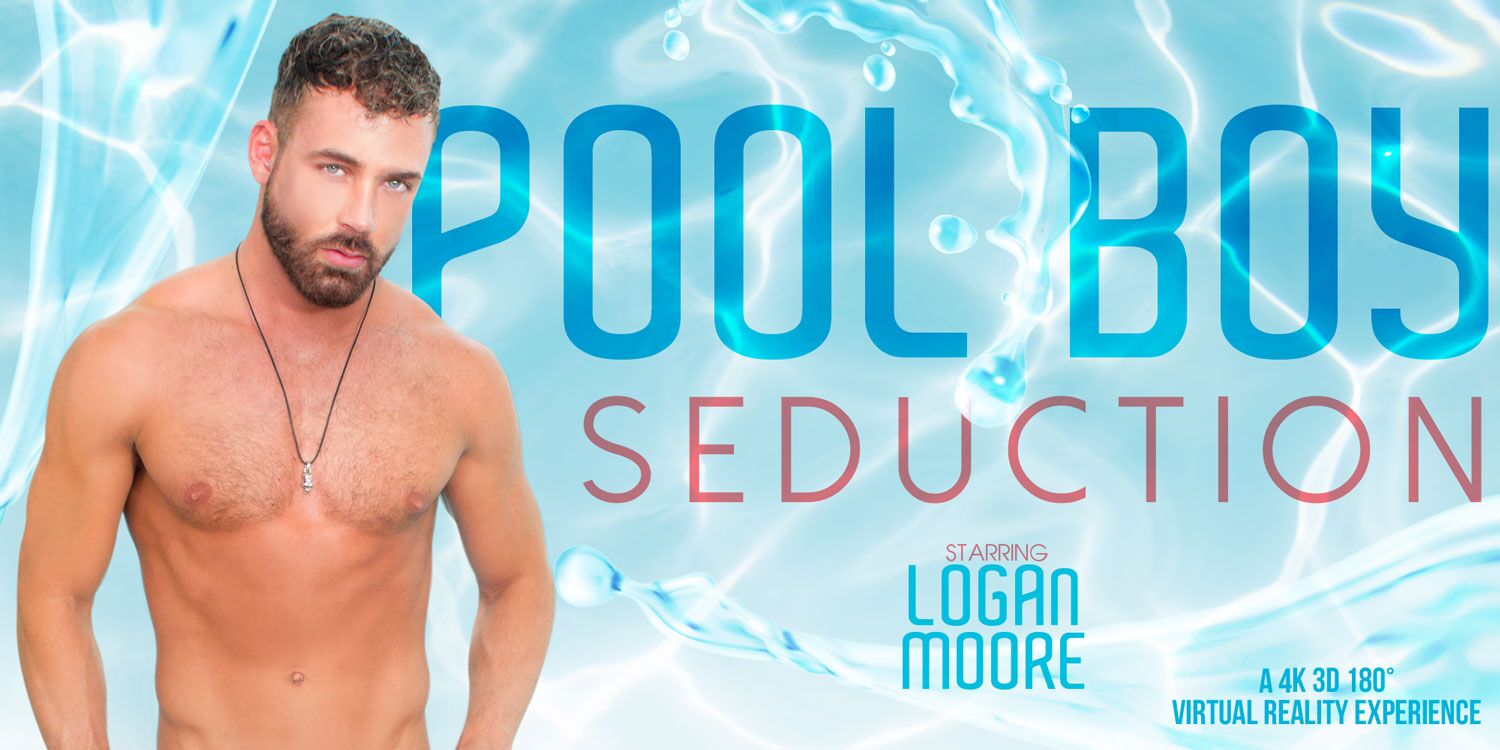 Do you have a swimming pool? If you do, you know how much work it is to clean and maintain it – the drain is always clogged with hair, leaves and trash, and cleaning the water filter is a real pain. That is why we all hire pool boys who will do the job for us at low cost, so we can finally enjoy the benefits of clean water in our pools. The average pool boy is a teenager who does not have much to say and is trying to raise some money to get himself into college. You bring him home, you wait until it's done, you go check how did he do – they usually work in a rush and it's a clumsy job – then pay him and you don't see each other for the next few weeks. And what if your pool boy is Logan Moore, one of the most handsome actors in Gay VR Porn? Well, in that case things can take a whole different turn... and that's exactly what happened in this Gay Virtual Reality Porn scene. Logan is a good employee – he always comes in time, does his job well and accepts fair pay – but the view of his sexy body could be interesting even for the heterosexual man, not to mention the horny gay pool owner who stares at him through the window all the time. When the man can no longer stand this sexy situation, he decides to go out to Logan wearing just his bathrobe – but it does not impress the pool boy and he goes straight back to work... not really! Logan only plays difficult to get and inside he likes his boss' body too, so he struggles to hide his dick growing in his pants not to reveal his true intentions. The owner of the pool does not give up so easily. When it comes to paying, he's got a little proposal for Logan. He goes out and say: "I'll pay you twice as much if you do me a blowjob!" Logan doesn't come out of his role, so he's not convinced at first, but when the owner proposes him more money, he "reluctantly" agrees. Logan gives a deep and wet head to the man, when his own cock is getting harder and harder every minute. When he can no longer withstand the game he's playing, he pulls it out of his trousers and puts it in the owner's mouth, who also could not wait for this big young dick. When both of the penises are hard and wet, Logan sticks out his soft ass in front of his employer and lets him fuck his tight anal with all his might. After a while, the boys switch sides, so now Logan can show off his fucking skills, by screwing the man harder than anyone before. When both men can no longer stand it, they cum nearly at the same time, so the owner is squirting inside Logan's anal and the young boy's cum goes down on the belly of his boss. Jizz runs down slowly on the owner's dick and balls and he is finally satisfied with the service. I wonder if he will be calling for Logan again to do this job in the future. After all, he's such a good boy... More huge dicks can be easily found on our
main page
.
Watch Logan Moore's Gay VR Porn Videos
!