Jamie Oliver Is Addicted to Ass... Your Ass!
date_range
November 11, 2017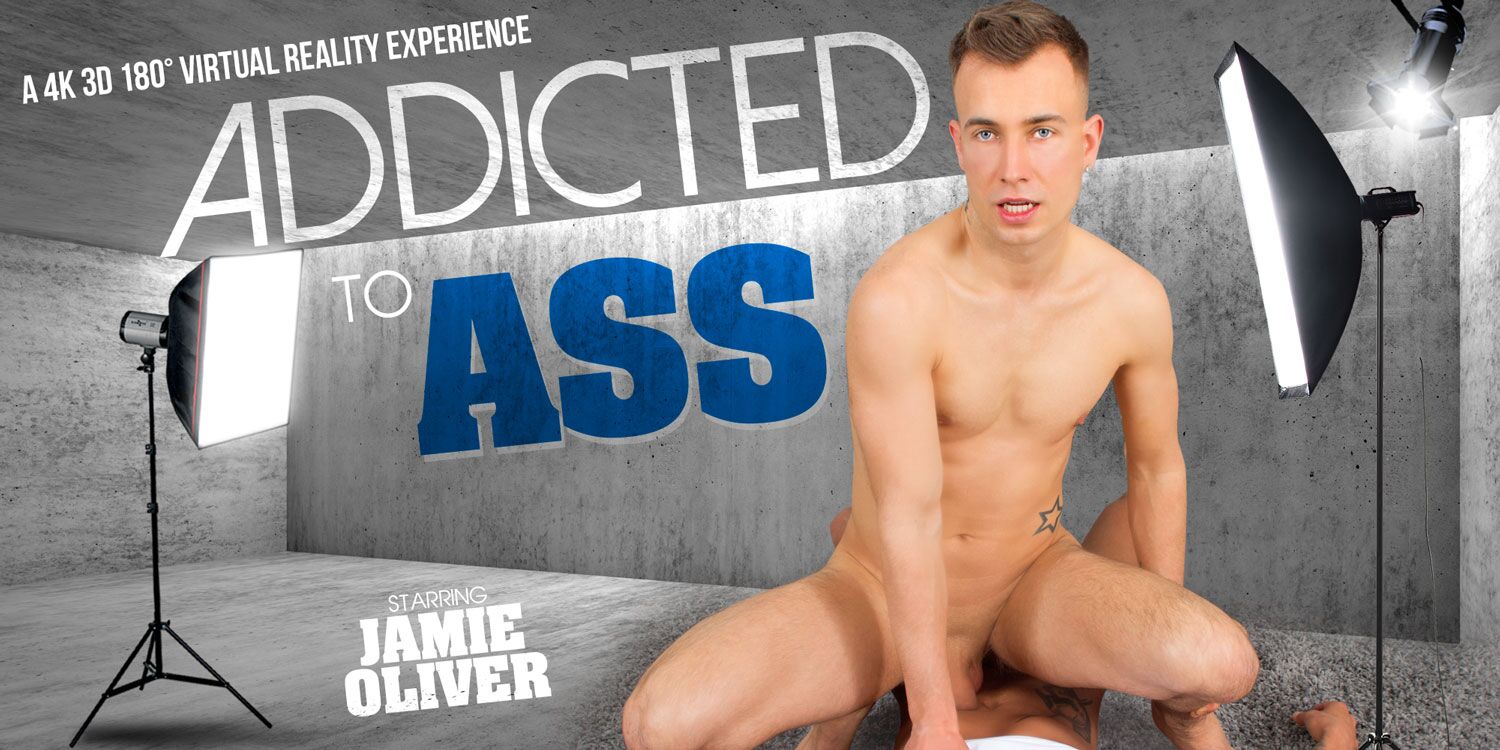 They say that you can get addicted to everything - not just drugs, nicotine or alcohol, but also to gambling, computer games and even to eating! I guess the nicest of all addictions is the sexual fixation - and in the case of sexy Gay VR Porn, craving for anal! Jamie Oliver is a serious case of such an addiction – he's thinking of anal sex 24/7! The fact that he is one of the more popular Gay Virtual Reality Porn stars makes it a part of his profession, so basically there's nothing wrong with that – but now it's an extreme case of workaholism! Jamie loves to fuck other men's asses, and is crazy about felling the hard cocks (and not only them) up his own anal, so he keeps putting dildos, vibrators, or whatever comes to his mind inside it at his every free moment. Like every professional gay VR Porn star, Jamie occasionally has to show up on a photo shoot to promote his beautiful body and take pictures for his fans. Today is one of those days when the boy will have a session, so he meets with his photographer and they start shooting photos. The men immediately move on to things, so Jamie almost promptly strips naked, since it's supposed to be a high quality photo shoot for VRB Gay and not some softcore bullshit! As soon as the photographer started shooting and Jamie began playing with his anus to make his cock hard, his obsession came out. You should know that before each session, the professional photographer is usually talking with his model to loosen the prevailing atmosphere. In conversation before these pictures, Jamie found out that his photographer is very lonely and isn't meeting with anybody, so he's actually longing for some good gay sex. This information is crucial for him, since now he knows that he could take advantage of this loneliness to calm down his relentless addiction at least for a moment. That's why Jamie makes a clear statement and asks the photographer, "Do you like me? Do you want to have anal sex with me? I can't stop thinking about your ass, man... "At first the photographer doesn't know what to say, but considering that he is really lonely and it has been some time since he had sex for the last time, he agrees - Jamie almost immediately kneels right before him and unzips his pants. Jamie takes the other man's penis to his mouth and starts sucking it up to make it as hard as possible so he can finally put it in his tight ass! When the photographer's cock is already swollen from the blood, Jamie quickly sticks up his ass in front of him, so he can finally take it inside up to the balls – just the way he likes it the best. His narrow sphincter is a great pleasure for the man's dick, which is turning Jamie's on even more. Jamie jumps on his new friend's cock, playing with his own dick all the time for a two-way pleasure. When the boy can no longer stand it, he cums on the belly of the photographer, then pulls his cock from the anal and begins to lick the dick to make him jizz as well. When he succeeds, he swallows all the load, leaving no trace of it, and the men return to the photo session as if nothing had happened. More cuties like Jamie can be found with ease on our 
main page
!
Watch Jamie Oliver's Gay VR Porn Videos
!