Watch Sexy Travis on VRB Gay's Casting Couch!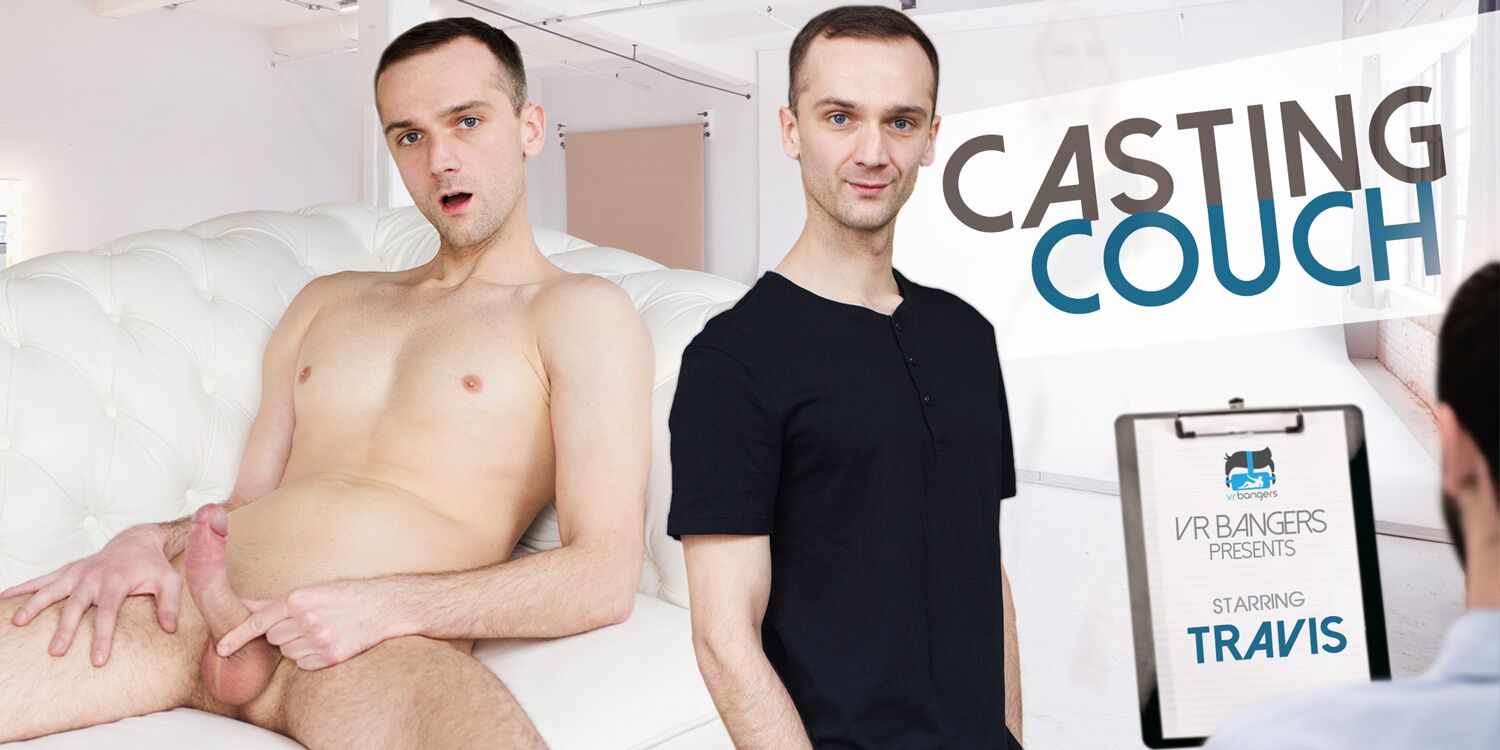 Have you ever been wondering is joining the gay virtual reality porn industry hard? Or maybe you've even been thinking about
becoming a gay VR porn performer
and start fucking some hot gay dudes for living? You've probably already guessed that you'd have to go through a casting of some sorts to get in the biz, but you're probably sitting there and contemplating how would it really be and if you could make it. In this brand new gay VR porn video with Travis, our fresh-faced gay virtual reality porn twink, you'll get to learn this answer and join him on the VR Bangers Gay's casting coach in 3D 360 degrees and in 4K UHD! We couldn't get Travis to perform with some other dudes just yet and we really had to give him an occasion to show off a little bit all on his own. That's why the Casting Coach gay VR porn movie is an immersive solo masturbation scene, and today there'll only be you (while wearing your VR headset) and our handsome guy. Sure, there's still gonna be a virtual reality camera between you, but since this is not a real casting and Travis is a professional, he doesn't mind it being in front of him and he'll behave equally sensually as if it wasn't even there. Thanks to that feature of this handsome male, your immersion should reach some brand new levels within this gay VR porn film, as you will actually get to feel like you've been there with our guy while having a private moment with him - just like he was your real life boyfriend! That's the magic of virtual reality cameras and 360° gay VR porn videos, so if you've always wanted to be dating someone like him - bang, VRB Gay got you covered! Our charming twink will be playing with both his cock and his ass, so everyone should find something for themselves within this gay VR porn video - oh, and don't worry, he won't forget about having fun with his balls either! The full package of epic masturbation skills is gonna be waiting for you within this gay VR porn movie, so we're not sure why aren't you wearing your VR visor just yet - joining Travis should become your #1 priority after reading all of this. Cut the bullshit and let yourself go in this incredible gay solo masturbation scene to jerk off while watching our twink doing the very same thing at the same time - maybe you'll even manage to cum simultaneously? In VR Bangers' gay virtual reality universe pretty much everything is possible, and there's no reason why wouldn't you try that! Did you let Travis mesmerize you with his amazing fapping skills in his newest gay VR porn solo masturbation scene? More such showcases of his epic talents can be seen on his profile, 
over here
 or after going to VR Bangers Gay 
main page
 directly - you'll find a lot of other premium gay virtual reality porn films out there with even more hot dudes equally hot to this sexy bad boy!