Manuel Skye Will Help With Your Hard... Muscles...
date_range
October 20, 2017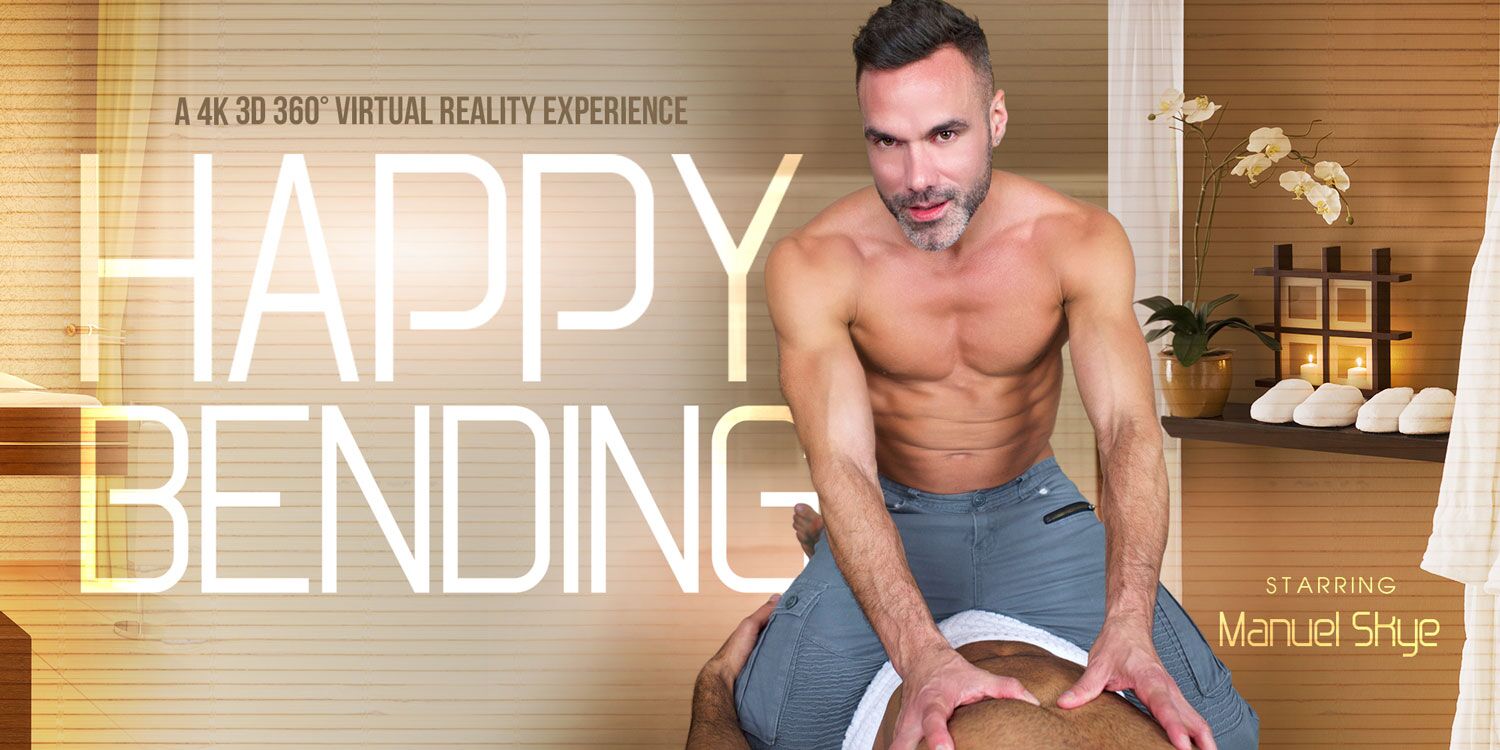 Life can sometimes give a hard time - a load of duties, work, physical activities such as a gym or any other sport and your muscles can seize up. The older we are, the more we have to take care of ourselves, so it is worthwhile to from time to time visit a specialist - a physiotherapist! A good rehabilitator will help you with almost everything: aching muscles, joint problems, sprains, coming back to form after an accident, or massaging your hard muscles properly so that you can build them better during tough workouts in the gym. And what if the physiotherapist could deal with another HARD part of our body? That sounds like a good Gay Virtual Reality Porn scenario! Manuel Skye is a real Gay VR Porn specialist with skill in his hands - literally! If any part of your body suddenly becomes hard and/or stiff, you can go straight to this expert without hesitation and he will take care of your problem... if you know what I mean. ;) So after you've listened to many good reviews from your buddies, you decided to visit Manuel with your aching muscles, initially not counting on anything else, but... the reality turned out to be a lot nicer, and after a while, you've learned how Dr. Skye has collected such positive reviews from your friends. In the beginning the physiotherapist had you to sit on a special couch and asked exactly what the problem was. When you showed him where it was hurting, he put on a layer of essential oil and started to massage it. Every movement of his male and muscular hands was making your penis harder and harder - there is no way Manuel couldn't notice that! Seeing your embarrassment, he says, "Do not worry, it happens to almost every one of my patients, and there is nothing strange about it." Well, you know that these words could've ended this situation for good, but in that case it wouldn't be a true Gay VR Porn scene, so instead you answer him with words, "Maybe you could massage me there too…?" Manuel smiles as if he was expecting such a reaction and without further comments he goes directly to your trousers. He pulls out your hard cock and starts massaging it with all his strength. Out of the corner of your eye, you notice that your physiotherapist must've liked you too, as his penis also seems to be hard over his pants. The rehabilitator no longer has to pretend that he's not sexually interested in you, so he gets naked, showing you his muscular body. That's it! You are not going to wait any longer! You get closer to Manuel and put your hard penis deep inside of him so that you hear him moaning and groaning softly. You'd never expect that coming in here could give such a turn of events, but you are happy - Manuel also seems to be satisfied. You keep pushing your pulsing penis as deep as you can, so you can hear how it bounces off his meaty ass over and over again. After a moment of aggressive fucking, you pull your dick out of the doctor's ass and cum on his belly – that's what I am talking about! If anyone asks you if you know someone good in this profession, you have no doubt who you are recommending... Manuel is a real expert! More muscular bodies are waiting for you on
VRB Gay's main page
.
Watch Manuel Skye's Gay VR Porn Videos
!