Zander Cole and You in a Small Tent. What's Next?
date_range
October 21, 2017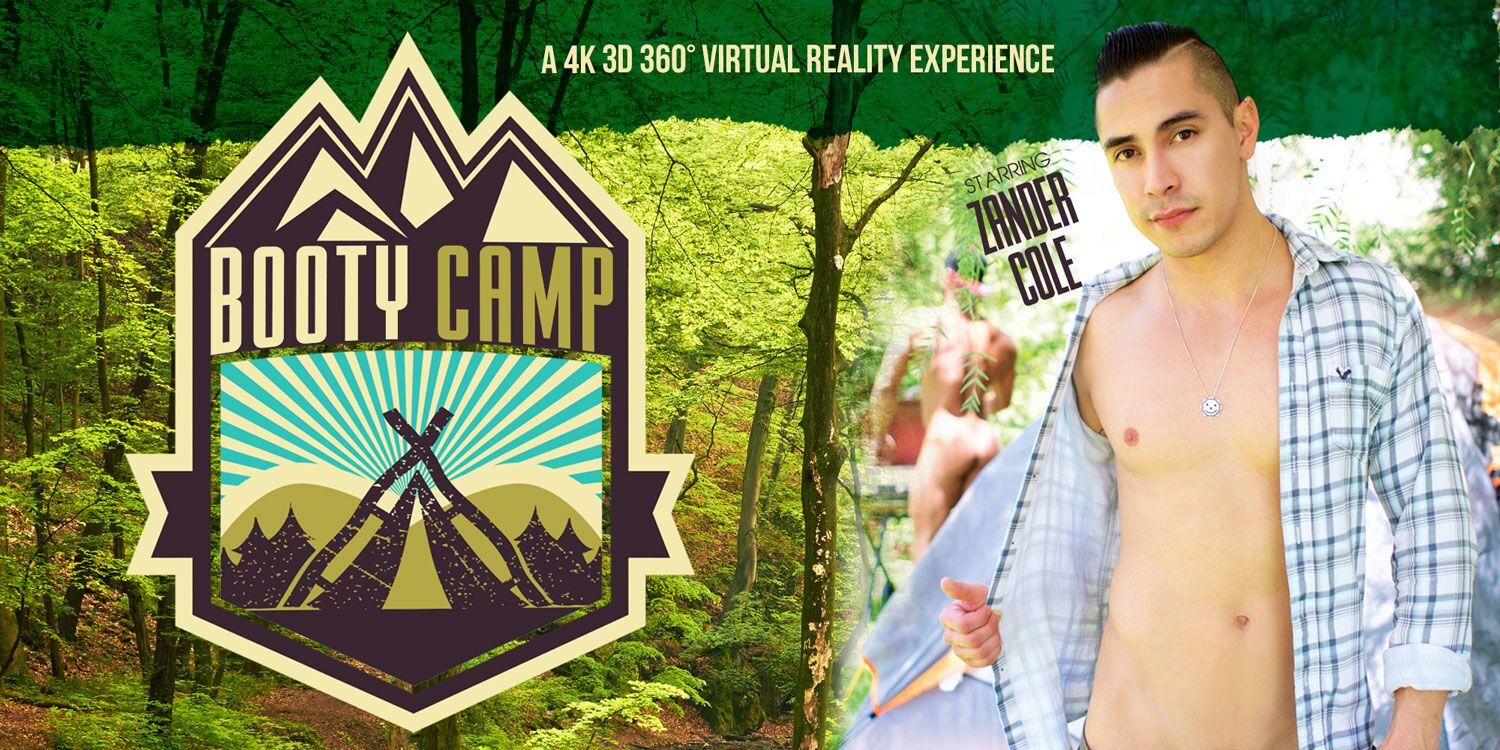 Do you like camping? Fresh air, nature, animals and escape from city noise, pollution and smog. If you've never done this before, you definitely should try, as in Gay VR Porn, nothing ventured nothing gained. Pack your backpack, bring all the stuff you need and get on the adventure! No? I didn't convince you? You don't like the forest? You are allergic to worms? You have a cold and fever? Well, then your imagination and one of the Gay Virtual Reality films from VR Bangers will have to suffice. Imagine that you are hot pornstar Micah Brand and you're camping with your old friend Zander Cole. After a day of adventures and struggles, you set up a camp and enter the tent to go to sleep for at least a few hours. However, it turns out that you can't sleep! All that noise from the forest, the sounds of the animals and the rumble of the trees lead such a city slicker like you into madness. After a while you notice that your friend Zander isn't sleeping either. The reason for his insomnia seems to be quite different, though. Zander is lying on his back next to you, in a rather unnatural position, moving every now and then, as if he was... scratching? Pumping the ball? Shaking something? You are approaching him slowly to look at what he's doing and you catch him red-handed - Zander is wanking! As soon as the boy notices that you've caught him, he immediately stops and tries to hide his cock back to the panties embarrassed. But you interrupt him, grabbing his hand and looking him in the eyes... No one does not need to know about your little gay adventure in the middle of the forest, right? You start squeezing Zander's cock, and so he grabs yours. When your penis is getting hard and pulsating with blood flowing, Zander decides to go one step further and gives you a head. When he takes your cock into his mouth, you're looking at him for a minute, trying to enjoy the moment, but after a while it's time to pay him back. You bend over his sexy body and begin to suck him too in the 69 position. You could easily make each other cum this way, but in the end that's not the point, is it? You are discovering new horizons, and each of you had his first blowjob at the age of 17, so there's nothing new about it. In that case, it's time to move on to something more serious. Zander gets naked, gets up on you, and sticks out his muscular ass in front of you. Then he's slowly inserting your wet cock inside of his anal, moaning at the same time with pain and enormous pleasure. After the first few pushes, you can speed up the fuck, because Zander's tight ass is already quite stretched. When you're getting faster, you can't stand it for too long so you cum inside his sweet anal, feeling like your jizz is running down on your wet penis and swollen balls. You're not a selfish person, so you're taking Zander's huge dick into your mouth again, letting him cum in your throat and swallowing his sweet jizz. Now you are both tired enough that no forest sounds will prevent you from falling asleep. Tomorrow you will return to your adventure as if nothing has ever happened... More one-on-one scenes are waiting for you on our 
main page
.
Watch Zander Cole's Gay VR Porn Videos
!