Dom Ully Is Gonna Play With Your Dick Joystick!
date_range
November 20, 2017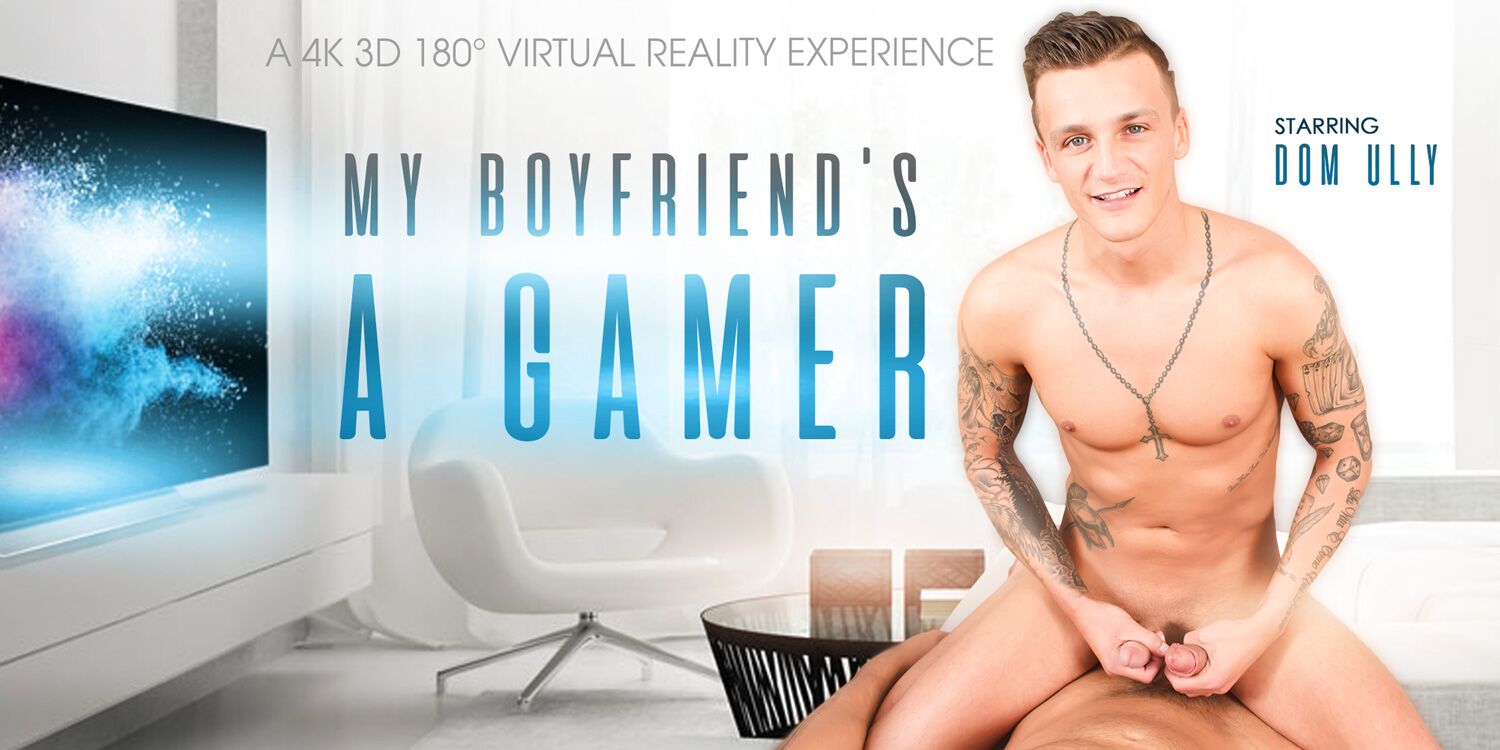 Computer games are one of the most popular forms of entertainment among all men - not just gay. All of us like to kick off our favorite RPG or FPS game to take a break after a hard day at work. Unfortunately, some of us exaggerate with playing games and aren't doing anything else in between. These so-called "no-lives" spend every spare moment in their favorite game, neglecting their loved ones and not doing the tasks assigned to them. Your boyfriend, Dom Ully, is one of these people - when he sits in front of his favorite console, everything else ceases to matter to him. Fortunately, there's one thing that will always be more important to him - his work. And what does this young man do for living? Well, if somehow you have not met him yet, you should know that he is a young Gay VR Porn star. And if so, what's so important about his work that he can forget about his valuable games at least for a moment? Of course the hottest gay sex in front of the VR Bangers' camera! Today Dom returned home from work and as usual first thing he did was sitting down in front of his console. He's playing another stupid game for all day today, like he's completely forgot about you - but you have an idea how to draw his attention. As Dom continues to stare at the TV and does not seem to pay attention to you, you start slowly massaging your cock through the boxers while looking at him. It does not take long for Dom to notice you and it is getting increasingly difficult for him to keep his attention on his "fascinating" game. With every minute, you are getting harder and harder, as your boyfriend remarks, and you know how excited he is about this. Eventually, Dom can't stand it, comes to you and throws away his pad, grabbing your swollen dick instead. The boy starts to massage it while looking straight into your eyes, while he's touching his own cock with the other hand. You succeeded - now certainly he will not return to his game, because there are two hard problems for him to solve. But since you are mad that you've had to wait so long for your boyfriend to pay attention to you, you will now be demanding and he won't be able to get away with it so easily. You grab Dom's head and lead him straight on your cock, forcing him to put it in his mouth so you can watch him suck it. The boy is obedient and without a word of objection comes to the matter, immediately getting it inside his throat as deep as possible. But you won't be satisfied with a common blowjob… A moment later, when you're done having fun with his mouth, you tell him to stick his ass before you, so you can put your dick between his buttocks. Dom groans quietly, because your big penis may be a little too big for his narrow anal, but at the moment you do not care and you just want to satisfy yourself no matter the cost. When you are done and cum inside his ass, you watch as your jizz leaks from his buttcheeks as you pull your pipe out of it. Next time, maybe the game will not be more important than you, and then you will be a little more gentle… maybe… More sexy twinks and brats can be found on our
main page
!
Watch Dom Ully's Gay VR Porn Videos
!