Cup of Coffee With Horny Jeffrey Lloyd!
date_range
November 23, 2017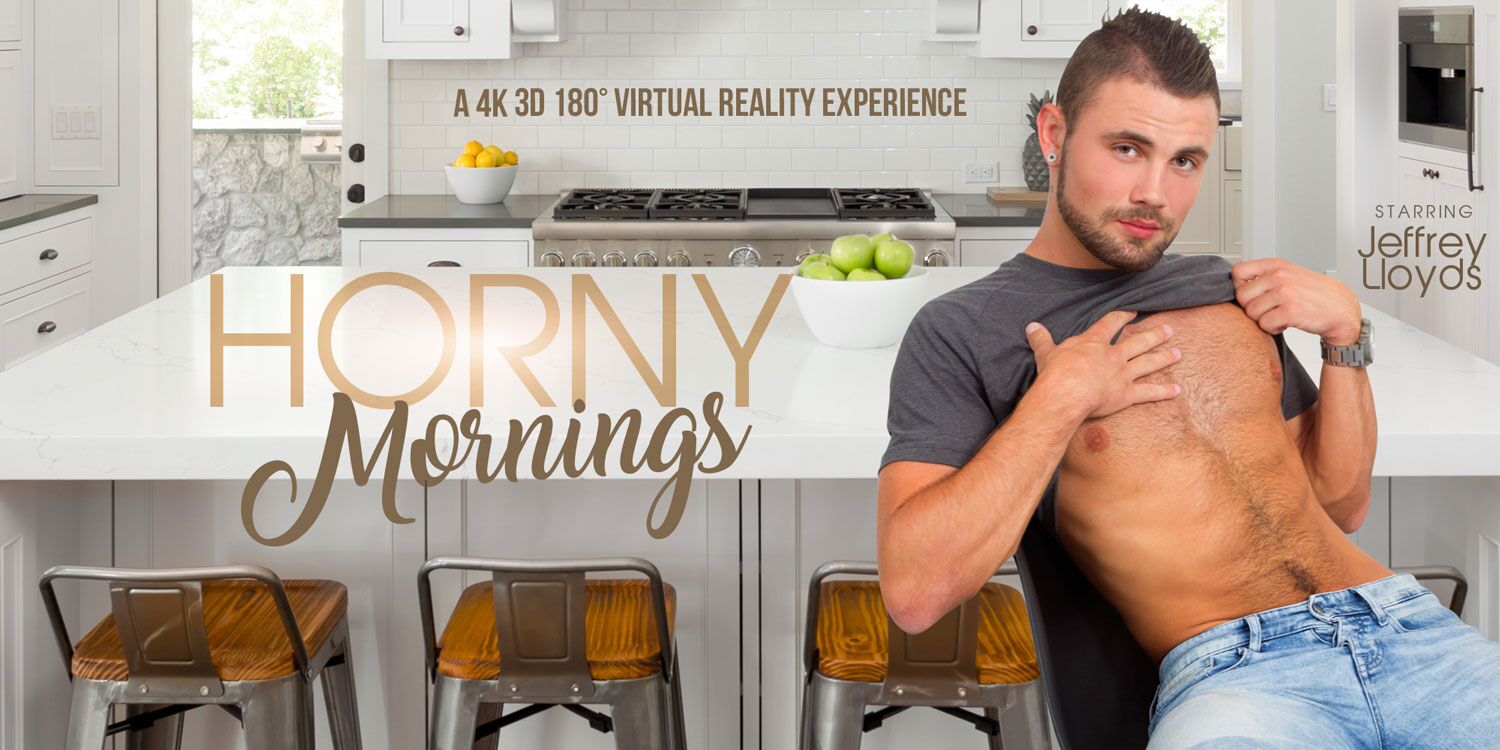 Everybody has a morning erection from time to time – apparently, we should be more concerned if we didn't have such boners, so we should be happy to see a small tent under our covers every morning. Doctors say that it's a determinant of high levels of testosterone - in other words, it indicates how male we are. Although we do not remember our dreams, such woodies signalize that we dreamed of having sex with some super-hot man. It's usually enough to jerk off in the morning to get rid of the "problem" – and yes, it is much nicer to do if you wake up next to a handsome man! And what if the man was Jeffrey Lloyd, the beautiful Gay VR Porn star? Such situations are possible only in the premium Gay Virtual Reality Porn films from VRB Gay! It's a typical morning, you wake up, you see an erection under the covers, you do not care about it, and you go downstairs, to the kitchen to drink coffee and wake up. Down below you meet Jeffrey, who just as you decided to make himself something to drink and eat to wake up. You see that not only you have woken up with a boner, because something is sticking out of the Jeffrey's boxers as well. Is it possible that both of you dreamed of all the things you did with each other last night? And if so, perhaps you should repeat it this morning? Even though you're not drunk anymore, Jeffrey still seems to be just as handsome as he was yesterday, so you wouldn't mind the second round. You come to him when he's drinking his coffee and grab his cock through his boxers. Jeffrey is a bit puzzled and says, "I did not think you'd have any more strength after yesterday, but if so..." And so he kneels before you and starts giving you head. You know that you are not dealing with an amateur and that you can afford a little more, so you grab him by the head and start face-fucking him. Saliva is trickling down his chin and he can barely catch his breath, however, he still seems to handle the situation extremely well – since he's a Gay VR Porn star, it's not the first deep throat in his life! When your dick is completely hard and wet, you tell him to lean in front of you on the kitchen counter and you take him from behind. You are less and less sleepy with your every thrust when the sound of your cock bouncing off his butt cheeks wakes you up from this morning's lethargy. When you're done with his narrow anal, you pull your dick out and cum on buttocks of the handsome man. Yet you prefer your coffee with a cream, not black, so you decide to suck his hard cock so he'll also get a little more awake. You swallow his hot load in full, leaving no trace behind it and now both of you are satisfied. Going to the kitchen, none of you expected such a breakfast, but if you stay in your company longer, you know… the lunch time is coming really soon… More twinks like Jeffrey can be easily found on our
main page
!
Watch Jeffrey Lloyd's Gay VR Porn Videos
!