Arad Winwin and Jeremy Spreadums Need Fucking Now!
date_range
January 02, 2018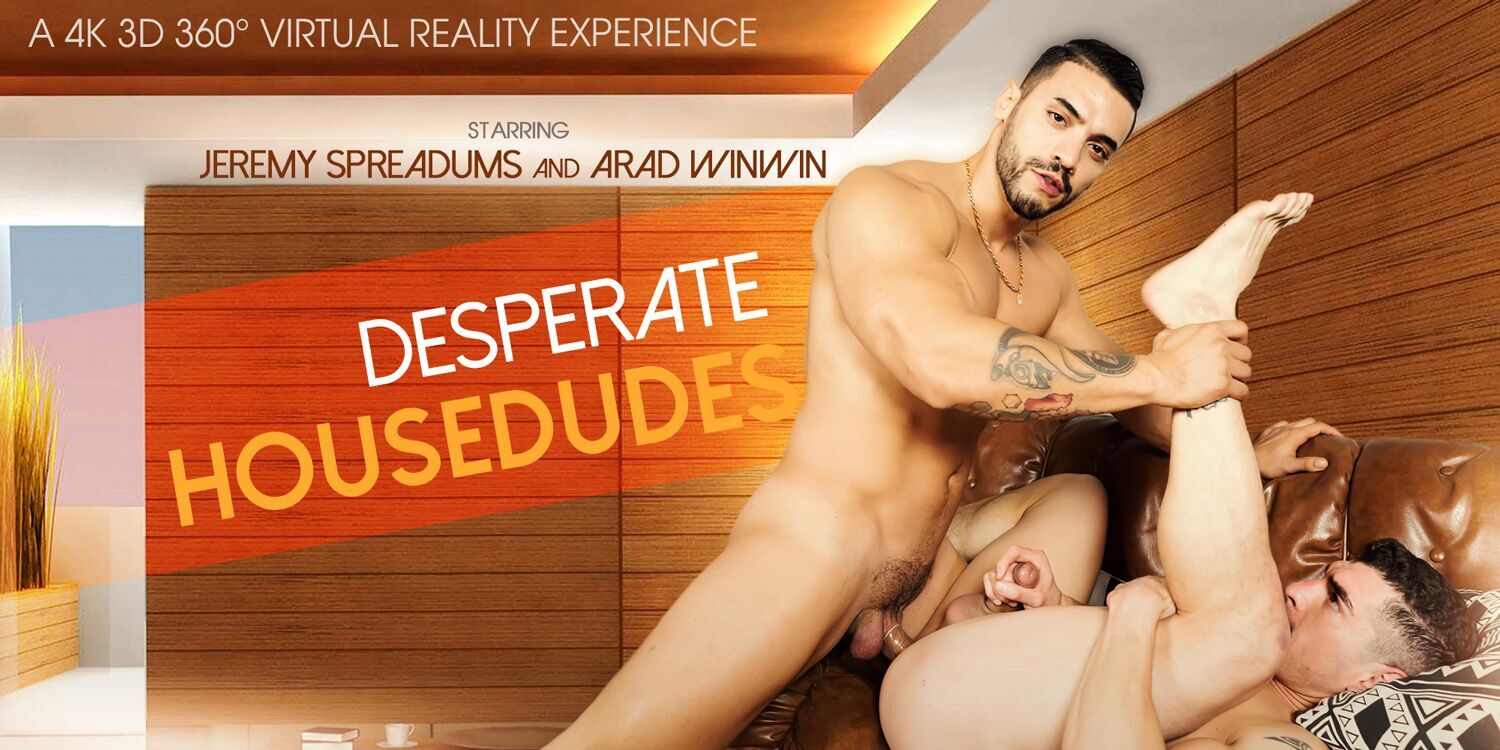 Have you ever been into a Gay relationship? To be honest, it's not really important if you had such particular one, cause heterosexual relations can be the very same - but we aren't here without a reason, right? Anyway, no matter if you have (or had) such a partner, or you are just fantasizing about having such a guy while watching our quality Gay Virtual Reality porn movies, this newest Gay VR Bangers' sex scene should address at least some of our members and viewers. Try to imagine this scenario: You are a hard working person who's trying to do everything to keep on going, while supporting your beloved partner with all your heart in these hard times - just like Jeremy Spreadums in this Gay VR Porn scene. Your boyfriend (in this case Arad Winwin) is currently looking for a job, but he just can't find anything as the employers are really picky and he had no luck on subsequent job interviews. Today you have decided to come home little earlier to see how is he doing and spend some time together, as you have been taking many overtimes lately to earn for a living of you two and you haven't been seeing each other too often. But when you came home, there was a surprise waiting for you... and it wasn't a pleasant one. You see through your VR goggles that Arad hasn't been out for a work meeting, has been lying to you all that time and he stayed home to watch VR Bangers' Gay VR Porn movies. Now you are mad and you know that this asshole deserves a punishment, so to deliver the justice straight away, you are telling him to knee before you and suck your dick here and now! And it is only a beginning... This Gay Virtual Reality Porn fantasy is full of hardcore, full of anger sex that Arad initiated with his foolish behavior. Jeremy is pissed out and he will be your hammer of justice today, banging on Arad's ass to seek for authority and discipline him for cheating you all over. Since you can now "enter" the Jeremy's body through your VR headset, you can too become a punisher today, watching Arad fucking and sucking your stiff dick. He does feel guilty, so you will be able to take an advantage of him in the ways you have never dreamt of, as he really wants to make up for all his lies and tricks he's played with you. So you can freely expect him to give you a deep throat face fucking, and yes, naturally his tight anal is waiting for your donger wide open and ready to fuck. Do not hesitate to make the maximum use of that, as he will not feel that way for too long! Are you craving for some more sexy muscles? Do you want to watch Gay Virtual Reality movies with the hottest buffed dudes in the world? Simply browse through our
main page
! Watch
Arad Winwin's
and 
Jeremy Spreadums
' Gay VR Porn Videos!