Ken Summers is Going on a Feeding Frenzy in VR!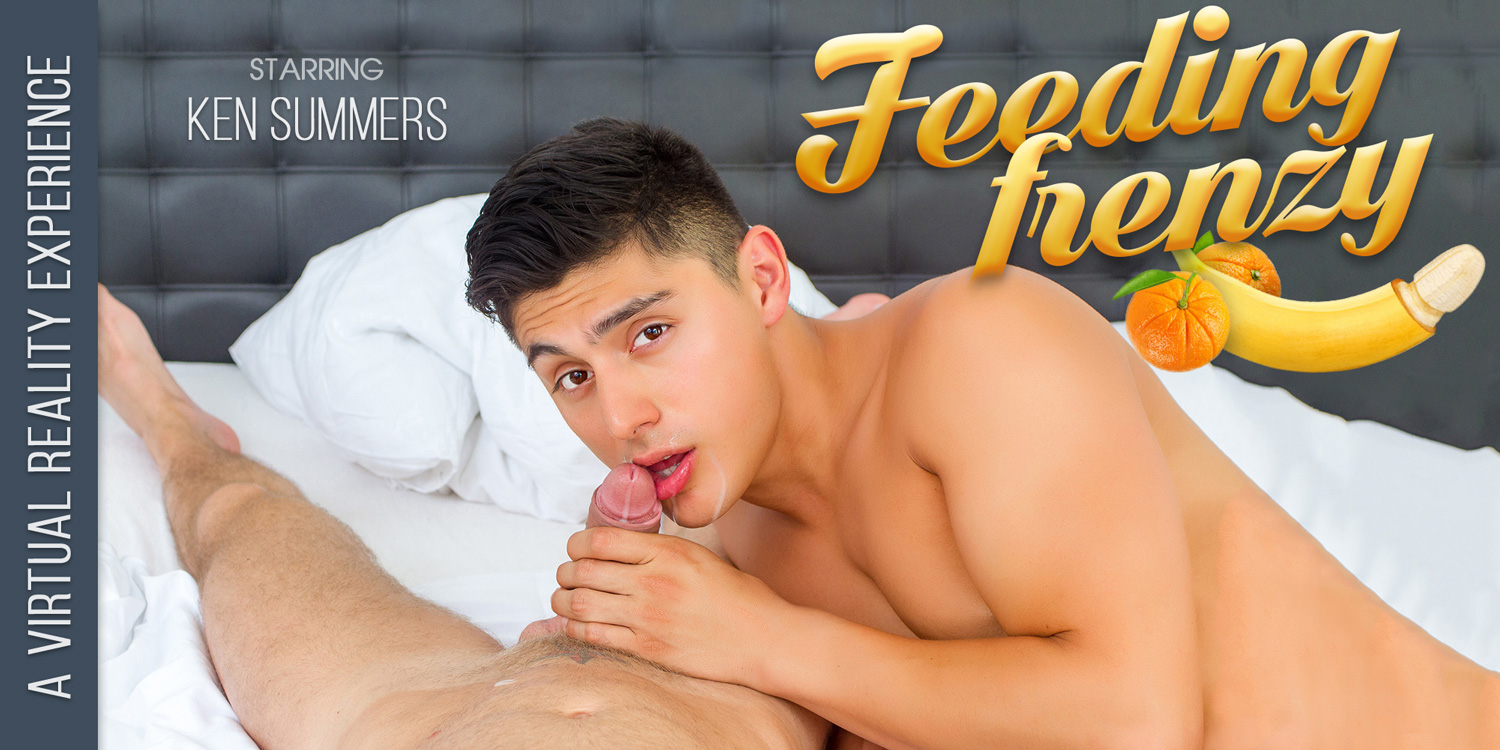 Is it the time for lunch already? Are you guys hungry? Well, here, on VRBGay.com, we like to have a tasty snack from time to time - and especially in our latest gay VR porn scene with Ken Summers called the Feeding Frenzy. You know, eating always gets better when you are accompanied by a handsome gay VR porn twink, and since Ken is exceptionally sexy, we are sure that you are going to love his company when eating some of that delicious food - and, naturally, going straight from it to his even tastier dick! Perhaps you do not connect the food with sex in your head, but - we have got to tell you - there is a lot of exciting food that you could play with, and you probably know that there is even a rather huge group of foods that are being considered aphrodisiacs! Here on VRBGay.com you do not need them, though, as our professional gay VR porn stars like Mr. Summers will get you in the appropriate mood soon enough - and this way you two will be able to go straight from just eating some lunch to eating each other's asses and dicks out! Wear your VR headset and give a minute to this new gay VR porn experience to see if you Ken is a good pick for you - even though you might not be hungry for food at the moment, we are sure that you are starving for a huge cock like his and you could use it in your ass right now. Thanks to the immersion of our gay VR porn experiences in up to 4K ultra high definition, you will be able to do that on behalf of VR Bangers Gay - and, once again, we made sure that nothing will ruin the "sexy time" between you and our amazing gay VR porn twink, Ken! Naturally, we do have a whole lot of similar gay VR porn movies if you are not in the mood for this one at all - wear your VR goggles and browse through all of them freely to choose something that feels like a perfect pick for tonight. With professional gay VR porn hotties like Ken (you can visit his profile
over here
) and other handsome daddies and twinks like him, we are certain that you will come up with a solution for your loneliness in no time - and your craving for an enormous cock right in the middle of your butt cheeks!
VRBGay.com
is being updated regularly with ever-new gay VR porn content and you should visit it as often as possible to always be up to date with everything that our new gay VR porn fantasies have to offer. You know, the list of our gay VR porn films will never keep on growing and we make sure to cover the ever-new sexual fantasies of the members of our community every day! And not to mention that we value the quality of our gay VR porn videos really much, and produce them in the quality no less than high definition - and even up to 4K ultra high definition (4K UHD VR) for your delight!