One on One in the Shower With Thomas Freidl!
date_range
November 05, 2017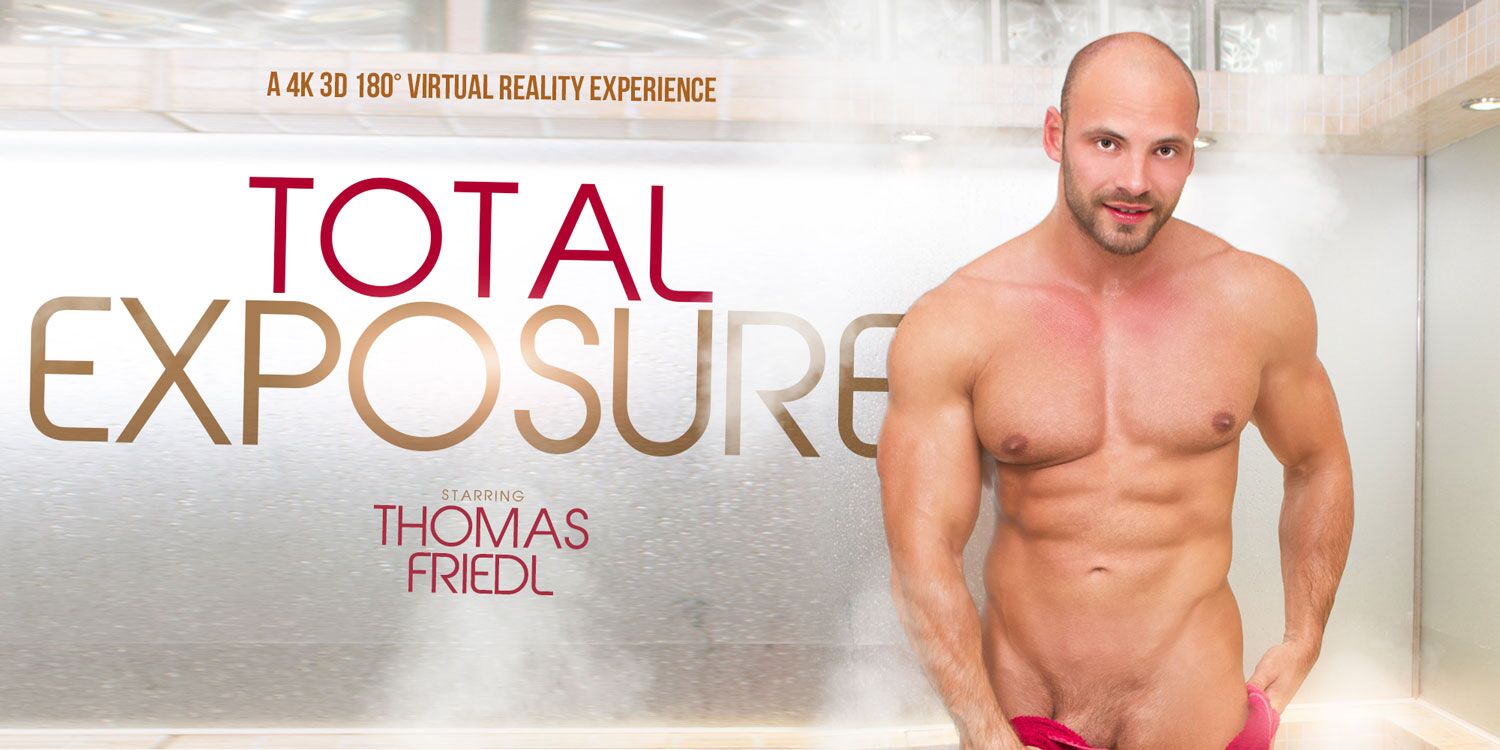 There is nothing better than a warm shower after a hard day! Hot water allows you to relax your muscles, and in the shower you can always contemplate about some serious life issues and think about your future plans. For every man, hot water showers will also be a great opportunity to "enjoy yourself", especially when you start thinking about some handsome man such as Thomas Freidl! And what if Thomas, with his sexy and muscular body, stepped into the shower and started masturbating, and you could be watching it? Such things are possible only in Gay VR Porn from VR Bangers! Thomas is one of the most muscular celebrities of the Gay Virtual Reality Porn, which is one of the reasons for his popularity among fans. His muscular arms and shoulders, as well as a six-pack on his stomach, made many VR Porn fans feel uncomfortable in their pants after just thinking about him. "Total Exposure," the latest Thomas film from VR Bangers, is a shower scene where, thanks to good lighting and bright tones, we can look at his beautiful body closer than ever - how cool is that, eh? The scene begins when Thomas enters the shower and begins to wash, completely naked, as if nothing had happened. However, when warm water flows down his body, the man begins to get harder and harder, which only provokes him to start playing with his cock. Thomas, after a while of showing off his muscular body from every side, begins to play with his big dick and touch his swollen balls, looking straight at the camera's lens to achieve even better contact with each of his viewers. When Thomas' play makes his cock pulsing from the rushed blood, and the man himself has been tempted to do more, he starts to play with his tight ass. At first, Thomas inserts only one finger to stretch out his anal, but over time he begins to penetrate his anus with additional fingers, all of this while masturbating and moaning loudly at the same time. The more excited a man is, the tenser the muscles all over his body get, which makes the whole scene even more enjoyable. Thomas puts his wet from shower water fingers deep into his anal and after a while he already knows that his hard cock will not last much longer - despite being a professional, no one would withstand such a dose of intense caresses! Thomas sits on the floor, spreading his legs wide and jerking off, while looking sexy at the camera just like he was anticipating the viewer to jizz with him. After a while, the man can't stand it anymore and cums on his muscular belly, while his hot load is drained along with the water to run down the shower. Who would have guessed that a normal bath in a shower could be so pleasant - with Gay VR Porn from VR Bangers everything can turn into a sexual scene for the real men! More dicks and muscles are waiting for on our
main page
!
Watch Thomas Freidl's Gay VR Porn Videos
!