Gay Wesley Woods Is an Artist of Sucking Dicks!
date_range
December 26, 2017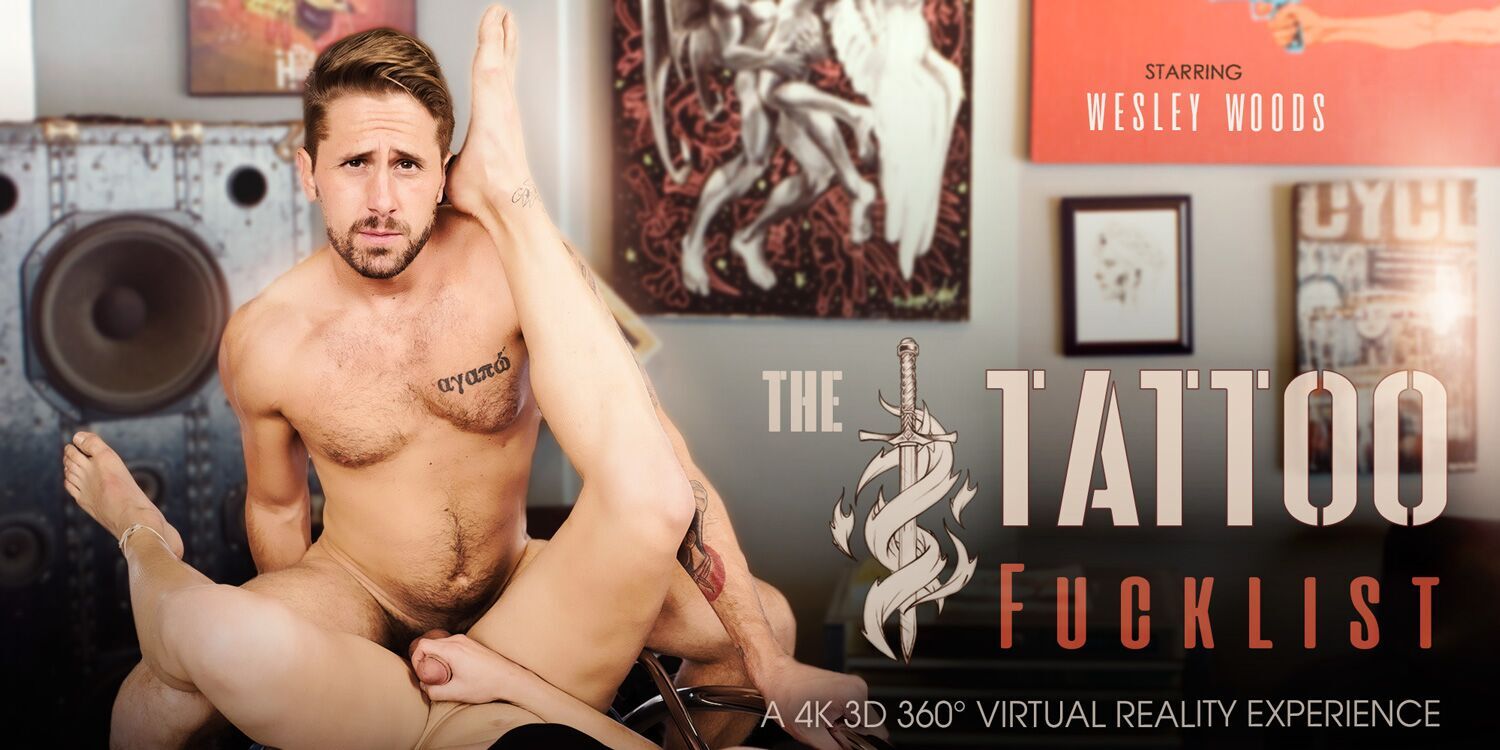 Tattoos are so fucking hot, right guys? I mean, just imagine some buffed dude with whole body covered in tats - could anything be sexier than that? Unfortunately, we are not seeing such hunks too often in the real life, so our eyes can't enjoy their hot bodies everyday, but... VR Bangers Gay saves the day again! Wesley Woods is here for you today to give you everything you need in this hot Gay VR Porn movie just recently released by us. There will be some fucking, dick sucking, your favorite anal fun, and of course many tattoos and two sexy males! And since we are on the topic of the men, let's talk about them a little more. Do you know why did we pick Wesley Woods for this Gay Virtual Reality Porn scene? Well, there are two reasons behind that choice. First of all, which is pretty obvious, Wesley is a handsome, muscular and (which is the most important factor today) a tattooed man, who has just recently joined our exclusive gay performers list. Probably it was unnecessary to mention that he is good-looking and athletic, as all our actors are, yet it is always okay to talk about such a nice things - don't you think? Secondly, our Wesley is a true modern man of the Renaissance, as his talents go beyond just professional fucking in the amazing way that we all love to watch. One of Wesley's hobbies is making tats and he is actually really good at it - good enough to have a waiting list of the guys that want to have his piece of art on their bodies. And what if some VIP came to his studio willing to do anything to get some of his skills? It would be so stupid to ask for money from him... Today is the day when one of the finest VR Bangers, our celebrity member has decided to visit Wesley's salon. Wes got so turned on the idea of hosting such a fame, that he had to try to fuck him here and now, regardless of the costs. Did he succeed? Well, our virtual reality camera was on all the time, so if you really want to find out, you will have to watch this newest Gay VR Porn film. Don't like the guys with tats on their bodies? We can assure you that whatever happens (no spoilers!) you will not regret playing this scene, as the Wesley himself is a piece of male body, with or without these marks, that you definitely don't want to miss. Just get your VR goggles on your head ASAP and view this Gay Virtual Reality scene straight away, to have some fun with us and perhaps change your mind about tattoos. If you are watching our productions for a while you know well that we can be trusted, so what do you have to lose? Are you a fan of bareback Gay Virtual Reality movies? You will find more of them on our 
main page
.
Watch Wesley Woods' Gay VR Porn Videos
!